Research on your own Before Hiring Swimming Pool Installers to Save Money
Choosing the right swimming pool installers may be the biggest decision of your swimming pool project because you want to ensure you get the best quality without paying a fortune, so the best thing you can do to save money is as much research as possible before you begin.
Being informed on common market prices, knowing the types of designs that exist and are possible and getting a feel for certain tasks that you may be able to complete yourself are all ways to save money and avoid being swindled by contractors who charge too much.
Research Designs
It's very easy to get talked into additional features that you hadn't planned on by dealers who want to make more money by showing you their beautiful examples.
Every additional aspect, from specific tiles to enclosures to water features will cost you more, so you need to be prepared before you get sucked in.
Browse online for various swimming pool designs to see what options you have, and based on what see, get average prices and compile your wish list.
If you are very specific in your demands, your contractor won't have a lot of room to try to sell you additional features and he will know that you are informed and in control.
Compare Prices
Of course, you can't go with the first installer you look into, despite the strong reputation they may have. You need to shop around and compare prices and take advantage of asking for as many free estimates as you can get.
Knowing the design and features you want beforehand, especially if you have been proactive and already taken some rough measurements, will help your estimates be as realistic as possible, even over the phone, so that when you choose someone, you don't get surprised by a sudden increase when they come to your property.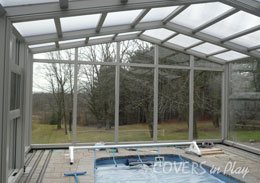 Establishing the Contract
When you have finally found a contractor that has a strong reputation and can offer a good price for the design you want, discuss all elements of the project and get everything in writing.
Also, determine how long your warranty on parts and labor will be for, and be sure that the price includes any tree removal and cleanup, to avoid extra charges later.
Take Part in the Project
Finally, look into things you can contribute to. You obviously don't want to get involved in anything you have already established with your contractor, but you can take on additional projects like enclosing your area with a fence or shrubs, doing some landscaping around the pool or perhaps doing the tiling and coping.